The future of Hammersmith Bridge
The closure of Hammersmith Bridge to traffic is not the disaster that has been reported. Many people are delighted that they can now use the bridge in relative peace and safety.
The bridge has always been pretty flimsy, and there must be a limit to how far the underlying structure can be reinforced. It's Grade II listed, as well, so making huge alterations to the roadway is not an option.
Why not close it to cars for ever?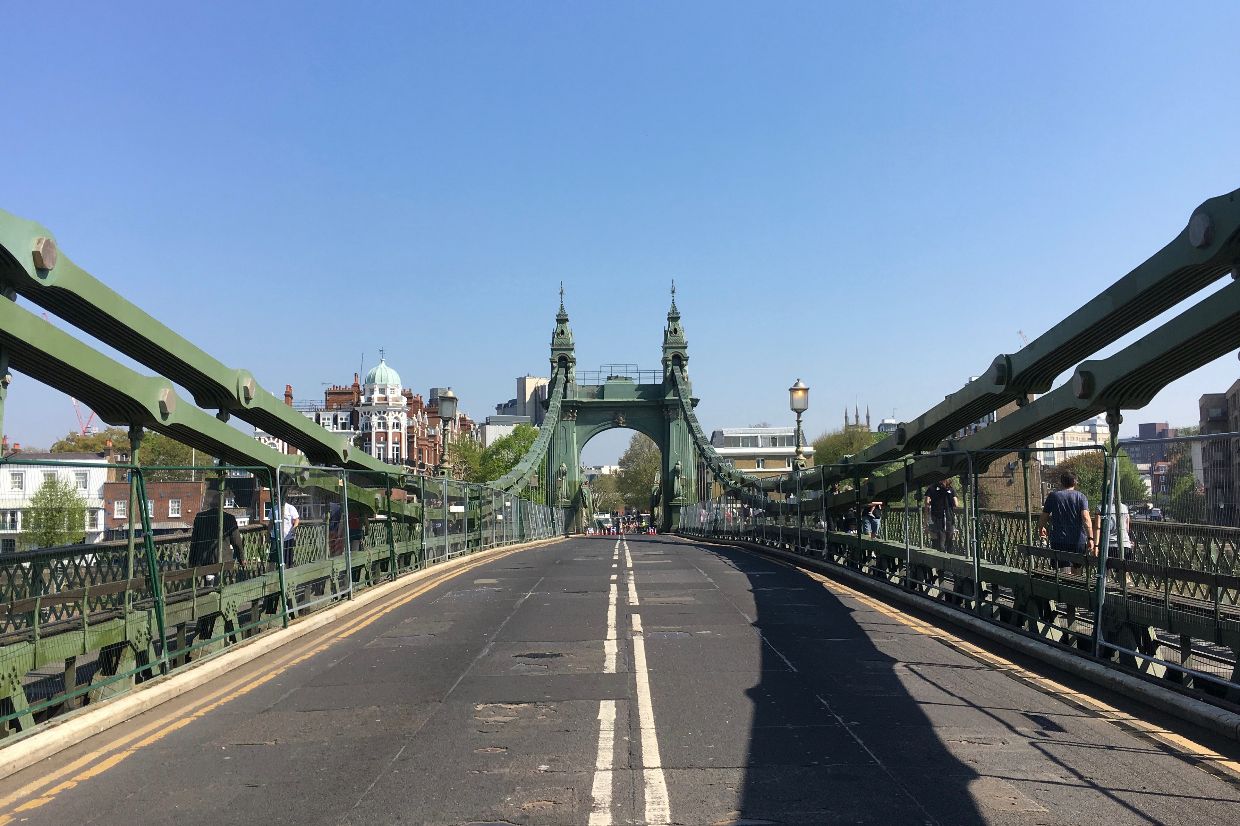 It's not such a daft idea. Hammersmith Bridge could be closed to cars for up to three years anyway, which has come as a shock to many drivers, but they will eventually get used to their new journeys or - hopefully - switch to more efficient forms of transport.
And it's led to a number of benefits, with non-motorists enjoying the lack of traffic on the bridge and surrounding roads.
If the bridge is opened to traffic again, the familiar, crawling traffic jam will return. It takes about 20-30 cars to completely jam one side of the bridge; in the morning commute, that's around 20-30 people. That number of people would just over half fill a number 33 bus. Why should they be allowed to occupy such a huge area, while polluting everything around them?
A new "garden bridge"
I can't help but recall the fiasco of Boris Johnson's Garden Bridge - a stupid idea, but one which conjured up a very pleasant image of a green, traffic-free Thames crossing that could be enjoyed by pedestrians and people on bikes. Would it be so crazy to transform Hammersmith Bridge into our own, local garden bridge?
I'm no architect, but I don't see that it would take all that much work. There would be no need to strengthen the bridge to cope with traffic - it would just need the holes in the surface to be patched up. Add some planters with trees and flowers, with a nice wide path down the middle of the bridge, and we'd have a new, green Thames crossing that could be enjoyed by everyone.
It might even be possible to include a single bus lane, to allow buses to cross in alternate directions, which would be helpful for commuters and those with reduced mobility. And of course, the bus services would run reliably on time, because of the lack of traffic in Castelnau.