Hammersmith Bridge now fully closed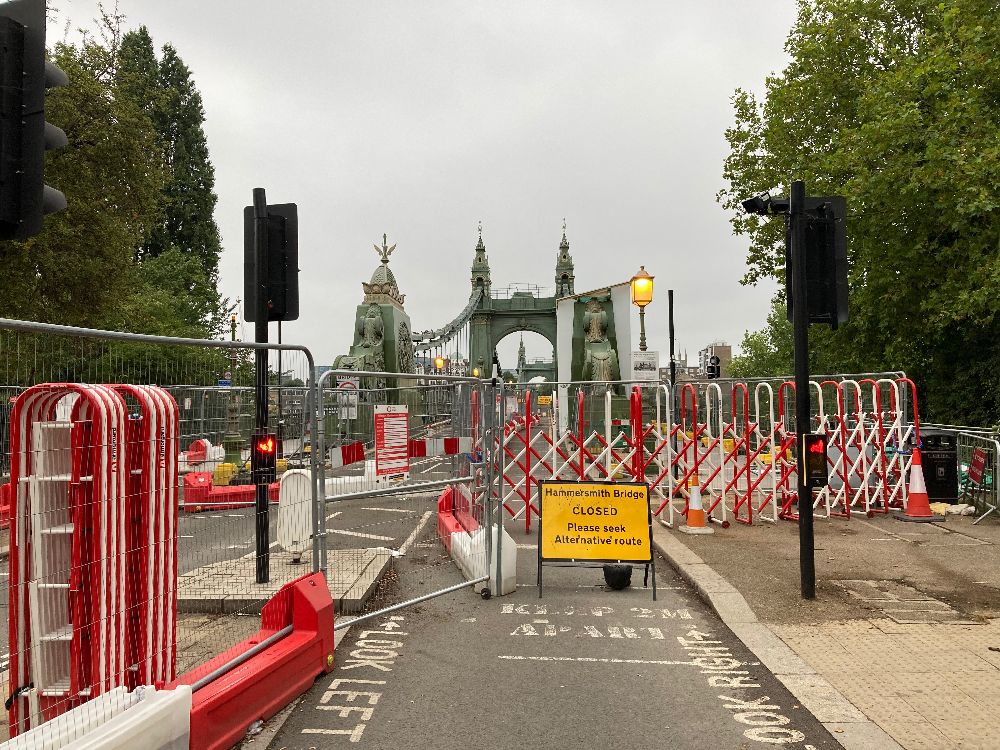 Due to urgent safety concerns, Hammersmith and Fulham Council have today announced (13 August 2020) that Hammersmith Bridge will be closed to all members of the public, including pedestrians and cyclists, from 5pm, following expert technical advice.
Inspections carried out as part of the restoration works identified an existing crack has worsened over the past week. Engineers believe this is due to the extreme heat conditions London has experienced in recent days.
From LBRuT: https://www.richmond.gov.uk/...
From the BBC: https://www.bbc.co.uk/news/...
From TfL:
Following expert technical advice, Hammersmith & Fulham Council has decided to close Hammersmith Bridge to all traffic - including buses, pedestrians, cyclists and river traffic - until we can be assured that it is safe.
This is because engineers working on behalf of Hammersmith & Fulham Council and TfL have discovered further damage to the north-eastern pedestal of Hammersmith Bridge. It will remain closed until we are assured it is safe to reopen.
We are sorry for any disruption caused by the sudden nature of this closure, but safety is paramount.
Engineers are now on site assessing the damage, which may have been caused by the recent extreme weather, and we continue to work with Hammersmith, Fulham and Richmond upon Thames councils on this project.
The Port of London Authority have issued a Notice to Mariners confirming that navigation underneath Hammersmith Bridge is not permitted and an exclusion zone of 15 metres upriver and downriver of the bridge has been established.
Download the PLA's Notice to Mariners (PDF)
Posted on 13th August 2020