Residents demand temporary Hammersmith Bridge is subject to environmental screening
New Civil Engineer, 8th June 2020: Lawyers representing "concerned" residents living either side of Hammersmith Bridge in West London have urged communities secretary Robert Jenrick to order further environmental studies of the proposed temporary cycling and pedestrian crossing to connect Hammersmith and Barnes...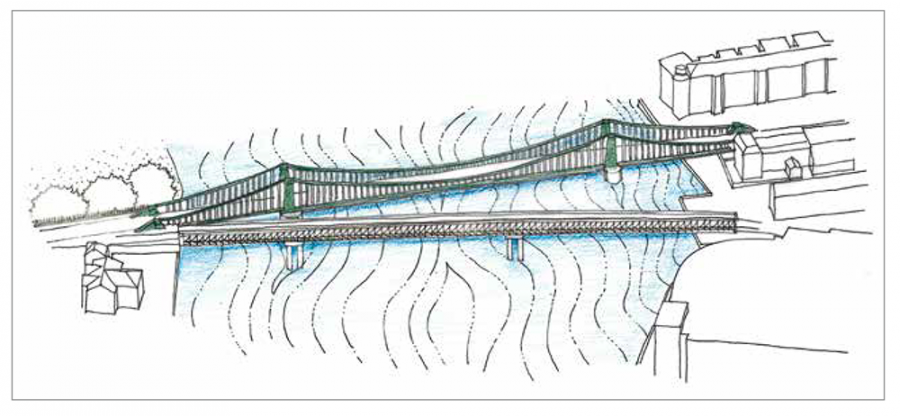 The proposed temporary bridge between Barnes and Hammersmith
...Alternative plans for a £5M temporary road and cycle bridge parallel to the 133-old-year structure were tabled by marine engineering consultant Beckett Rankine last October, but were rejected by TfL and Hammersmith & Fulham Council, in whose jurisdiction the bridge's northern end falls.
However, locals have raised concerns about the environmental impact of diverting traffic away from Hammersmith Bridge which records daily crossings of 22,000 vehicles and 1,800 buses...
...[The letter to Robert Jenrick] adds: "Moreover, the effect of proposal is that for the duration of the Works, motorised traffic will be diverted to other bridges.
"TfL already recognises that impact as 'significant congestion in the local area and on other Thames bridges, as well as disruption to those using public transport'.
"By promoting a bridge that has no capacity to carry motorised traffic, TfL will be perpetuating that adverse environmental impact for the complete period of the Works."
Read the whole article on the New Civil Engineer website
My comment: It seems that these "concerned residents" are objecting to the proposed temporary bridge - which would only carry people on foot and on bicycles - because it would perpetuate the situation that has prevented cars crossing the river between Barnes and Hammersmith. (I think that's right. Or am I being a bit dim?)
So that must mean that either:
they would prefer no bridge at all, in order to put pressure on LBHF to speed up repairs, or
they would prefer a temporary bridge that would allow vehicles to cross as well as walkers and cyclists.
Given the recent changes in the layout of the bridge, which has caused a lot of confusion over who should go on which part of the bridge, I'm beginning to think that the pedestrian and bike only option might be a good idea. It would provide an easy way to cross the river for people on bicycles, without the need to dismount, and would make it possible to walk across without feeling pressurised by the close presence of bicycles.
But the idea of a temporary bridge for cars is appalling: it would require a much sturdier construction, and would funnel traffic into the narrow confines of Queen Caroline Street on the Hammersmith side. One can only imagine the resulting traffic jams, pollution and inconvenience for everyone along the route.
The article also mentions the concerns of residents that motorised traffic will be diverted to other bridges - meaning Putney and Chiswick Bridges. But have we really learned nothing about traffic evaporation? Not all the traffic is diverted - a significant amount simply disappears. The more inconvenient it is to drive, the more people give up doing it.
The impact of the Covid-19 lockdown has shown us what our environment can be like with very few people driving cars. We should facilitate any measures that improve conditions for people travelling by bicycle or on foot, and resist any that make life easier for the motorist.
Posted on 8th June 2020