TfL releases designs for temporary Hammersmith Bridge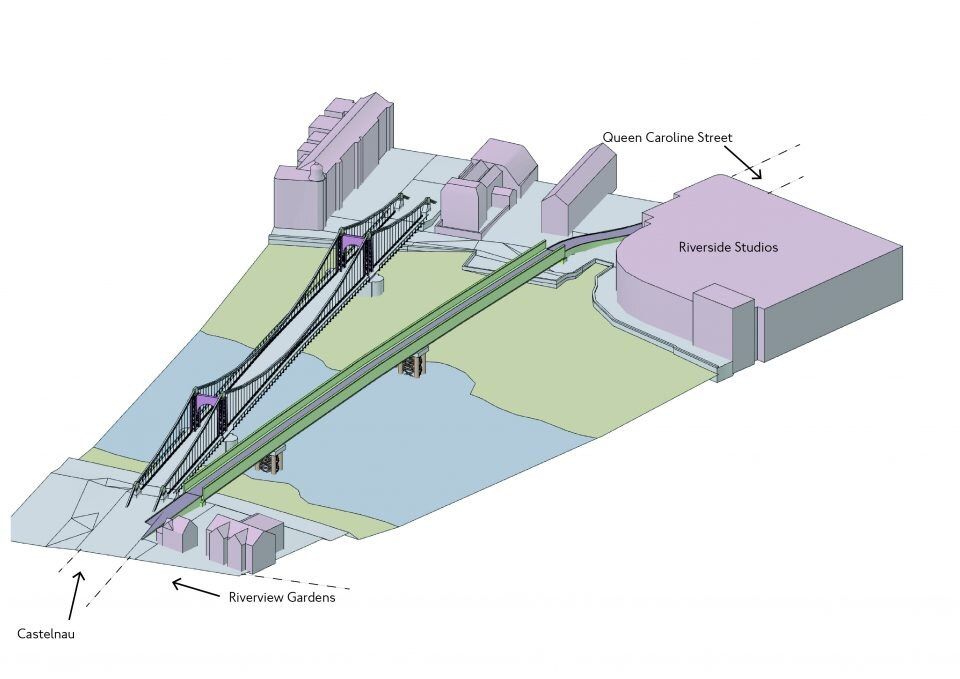 Proposed temporary bridge alongside Hammersmith Bridge
Plans to build for a temporary cyclist and pedestrian bridge alongside the partially closed Hammersmith Bridge have been unveiled by Transport for London (TfL).
The temporary bridge would allow the Hammersmith Bridge, which has been closed to traffic since April, to completely shut in order to prepare for restoration works.
The plan is similar to that proposed by ousted MP for Richmond Park, Zac Goldsmith, but this version is intended to avoid the demolition of nearby properties that the earlier one would have required.
TfL is hosting public drop-in exhibitions where residents can find out more about the proposals. They are being held at the following times:
Saturday March 14 from 11am to 3pm, at Riverside Studios, Hammersmith, W6 9BN
Tuesday March 17 from 6pm to 9pm at the Castelnau Community Centre, Barnes, SW13 9AQ
Thursday March 19 from 4pm to 8pm at Riverside Studios, Hammersmith, W6 9BN
Saturday March 21 from 1pm to 5pm at St Michael & All Angels, Barnes, SW13 0NX
UPDATE 17th MARCH: the remaining drop-in exhibitions have now been cancelled, due to the coronavirus outbreak.
The public consultation will run from March 14 and March 22 and you can take part by visiting: www.tfl.gov.uk/travel-information/improvements-and-projects/hammersmith-bridge
I have mixed feelings about this. On the one hand, it's good that TfL are making provision for pedestrians and cyclists to cross the river, even when Hammersmith Bridge has to be completely closed.
On the other hand, it does seem that the eventual aim is to allow motorised traffic to cross the bridge once repairs are complete, which would be a disaster for the local area and for London as a whole.
Posted on 9th March 2020