Temporary bridge mooted to speed up repairs
From New Civil Engineer:
A temporary bridge running parallel to the existing Hammersmith Bridge has been mooted as a way to speed up repairs and keep traffic moving between Hammersmith and Barnes...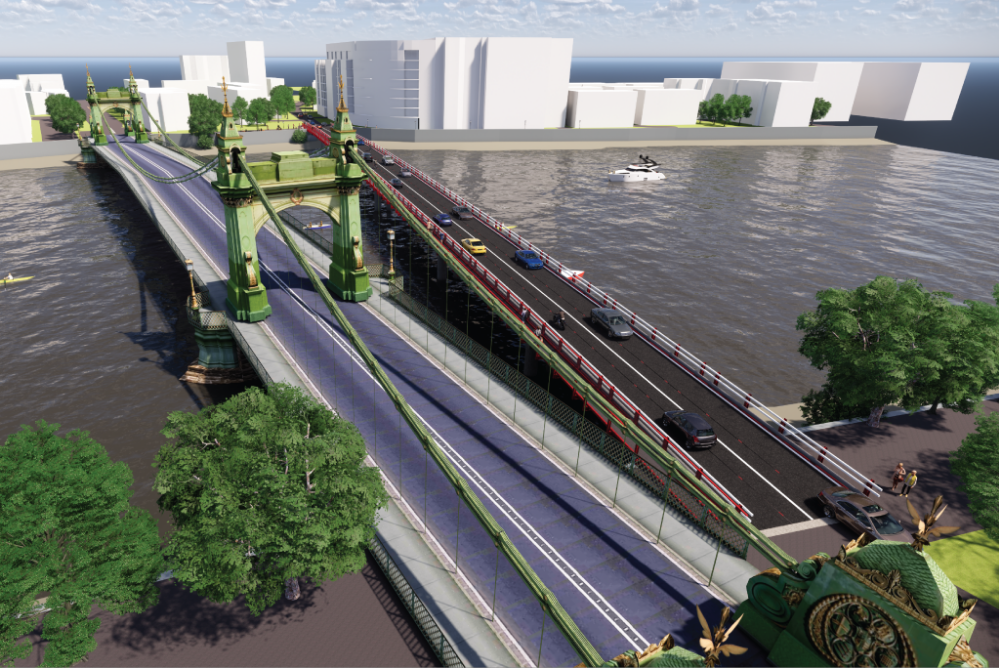 Marine engineering firm Beckett Rankine has drawn up a temporary solution to combat both the length of time it will take to carry out repairs as well as providing a traffic link across the River Thames.
Running from Queen Caroline Street in Hammersmith and Castelnau in Barnes, Beckett Rankine's proposal is for a £5M temporary bridge to be constructed next to the existing structure...
The temporary replacement bridge would provide a 7.5m carriageway plus a 1.5m footway and would be able to support the weight of double-decker buses.
The temporary bridge proposal uses standard off-the-shelf bridging units by RetroBridge which are supported on temporary piles and pilecaps...
Beckett Rankine director Tim Beckett told New Civil Engineer that construction of the temporary bridge would take three months after being given the green light from planners.
Read the whole article on the New Civil Engineer website
My comment: I had a look at this this morning. It's quite a clever idea, I suppose, using slipways on each side of the river, and cleverly noticing that Queen Caroline Street can be extended in a more or less straight line to meet the opposite shore at the southern end of Hammersmith Bridge.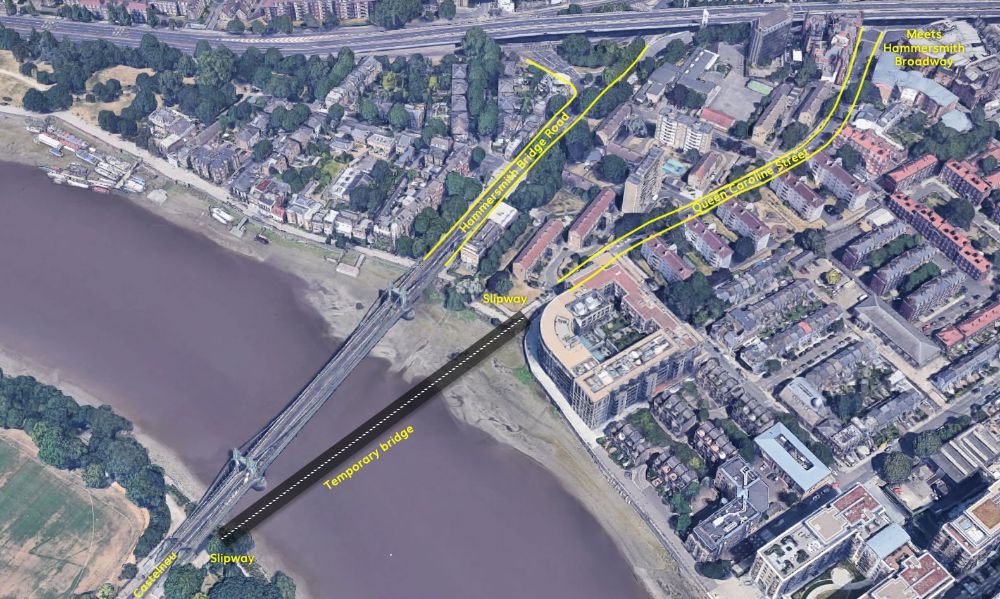 Hammersmith Bridge and the proposed temporary bridge (Click to zoom in)
However, Queen Caroline Street is long and narrow compared to Hammersmith Bridge Road, and meets Hammersmith Broadway at a corner where traffic is already dividing into those turning off to the West and those continuing round. The traffic flow would be complicated by the new traffic coming from the temporary bridge.
Furthermore, even if parking restrictions were applied to Queen Caroline Street, its width would mean that it would be constantly jammed with the traffic coming from, and going to, the temporary bridge.
On the Barnes side, the "landing area" for the temporary bridge is very narrow, and the new roadway would pass extremely close to existing buildings.
Given the long history of overspending and failure to meet deadlines on public projects, it's hardly likely that the budget of £5m and timescale of three months is at all realistic.
And in the end, what's the point? It would simply give us a worse version of the situation before the bridge closed: slow moving, polluting motor traffic, crawling over the river, and an overall increase in the amount of traffic in this area of London. Is that really what we should be aiming for?
UPDATE: this idea has been rejected by LBHF, who say it is not feasible. Thank goodness for common sense.
Posted on 16th October 2019