MP welcomes study into swift Hammersmith Bridge solution
From the Richmond and Twickenham Times:
The MP for Richmond Park has welcomed a quicker solution to the Hammersmith Bridge problem.
The London Borough of Hammersmith & Fulham (LBHF) has commissioned a feasibility study into a temporary bridge proposal that could allow access across Hammersmith Bridge within one year.
The design is the brainchild of Sir John Ritblat, Foster + Partners, an architectural design and engineering firm and specialist bridge engineers, COWI.
The double-decker crossing would enable pedestrians, cyclists and motor vehicles to cross the bridge within a year of a contractor being appointed.
Read the whole article on the Richmond and Twickenham Times website
Sarah Olney expressing her approval for a study into the feasibility of the Foster + Partners proposal for a double decker bridge.
She is right to say: "At a bare minimum, the priority for a lot of my constituents is restoring access for pedestrians and cyclists". But why is a double-decker bridge needed? Why go to all that trouble to restore the crossing to private cars - the least efficient means of moving people across the bridge?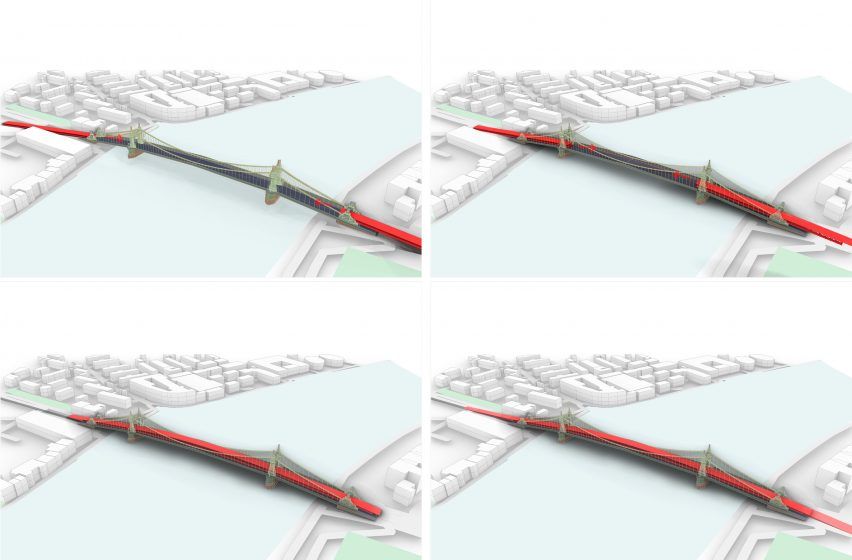 Drawings showing how the temporary bridge would be constructed
If cars were allowed to use the double decker bridge, the old traffic jams would reappear in Castelnau and Hammersmith Bridge Road. The approach ramps for the vehicle deck would stretch a long way on each side of the bridge, so vehicles would completely dominate the landscape. And people walking or riding bikes would have to use the lower deck, in the shadow and pollution produced by the upper deck.
And anyone who thinks that this bridge would remove the traffic congestion from Chalker's Corner, Putney Bridge, Putney High Street, Fulham Palace Road, and anywhere else where the jams have been blamed on the closure of the bridge are simply kidding themselves. Those places have always been congested, and will continue to be so.
Posted on 29th January 2021