A radical new plan for Hammersmith Bridge
As reported on the LBHF website, Hammersmith & Fulham Council, Sir John Ritblat from Delancey, and world leading architects and engineers Foster + Partners have unveiled a radical new plan to build a temporary double-decker crossing within the existing structure of Hammersmith Bridge.
To quote their website:
Under the proposal, pedestrians, cyclists and, potentially, motor vehicles could be using the bridge, with river traffic passing underneath, within a year of a contractor being appointed - much sooner than the previous plan.
A new raised truss structure would be built above the existing road deck featuring a lower level for pedestrians and cyclists and an upper level for cars and buses.
Read the whole article on the LBHF website
Full plans can be seen here: https://www.flickr.com/photos/hammersmithandfulham/albums/72157717045947796
The new structure would be built within the existing structure of the bridge, without putting a load on the bridge itself. The idea is that the pedestrian deck can be used to access the works to the structure of the bridge.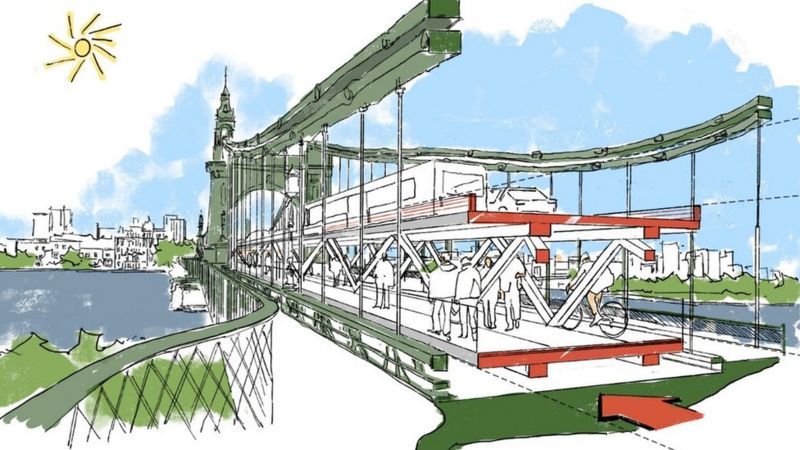 At least the idea uses existing roadways for traffic to access the bridge, and won't put a load on Queen Caroline Street or require any demolition on the Barnes side.
But I think it's a shame that pedestrians and bicycles are relegated to the gloom of the lower deck, where they will breathe in the pollution produced by the traffic above, and will be periodically interrupted by the works to the bridge. Surely the traffic deck should be used for the works - after all, they caused the damage to the bridge in the first place!
And of course it heralds the return of motorised traffic to Hammersmith Bridge. This will no doubt delight some people, who look forward to sitting in slow-moving traffic along Castelnau again.
What a pity that the majority of bridge users will have to once again suffer the noise, pollution and congestion caused by the few.
Posted on 26th November 2020