Bridging moans
Although the idea has been ruled out by Dana Skelley, Project Director for the Hammersmith Bridge Taskforce, as well as many others, there are still some people who want a temporary road bridge for motor vehicles to be built next to Hammersmith Bridge.
Apparently this will "relieve congestion" at Putney and Wandsworth bridges and elsewhere.
Seamus Joyce, a Conservative councillor at LBRuT, has been very vocal (and quite rude) on the subject.
So let's see what the impact of a temporary road bridge would be, using the plans submitted by Beckett Rankine as an example.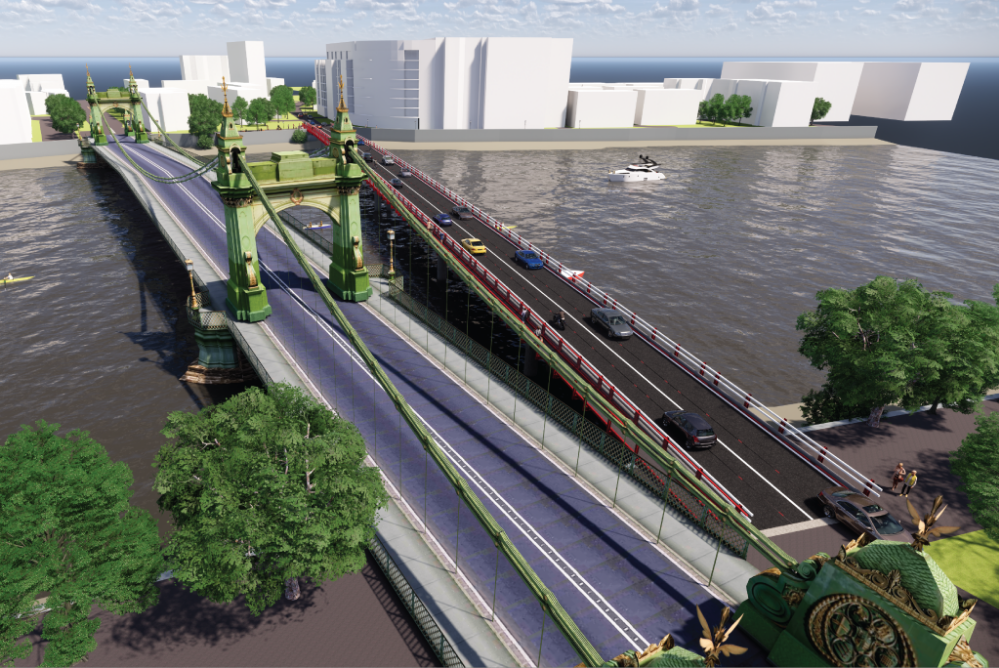 Temporary bridge for vehicles as suggested by Beckett Rankine
Beckett Rankine's proposal is for a £5M temporary bridge to be constructed next to the existing structure. The bridge would provide a 7.5m carriageway plus a 1.5m footway and would be able to support the weight of double-decker buses. The proposal uses standard off-the-shelf bridging units which are supported on temporary piles and pilecaps.
The proposed bridge would connect to Queen Caroline Street on the north side, in a more or less straight line, and would meet the opposite shore at the southern end of Hammersmith Bridge.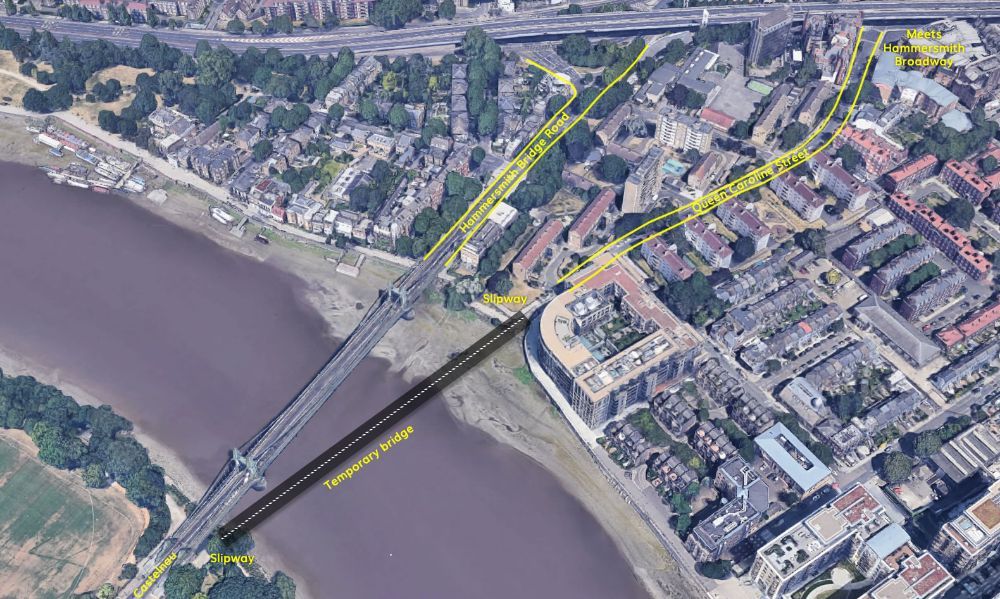 Proposed route of a temporary bridge for motor vehicles next to Hammersmith Bridge (Click to zoom in)
It's a good idea because...
It would allow people to cross the river between Barnes and Hammersmith.
It's a bad idea because...
It will not be a case of simply jumping into your car and driving to Hammersmith. Thousands of other people will be wanting to do the same, and the bridge will easily become jammed with traffic.
Queen Caroline Street is long and narrow compared to Hammersmith Bridge Road, and meets Hammersmith Broadway at a corner where traffic is already dividing into those turning off to the West and those continuing round. The traffic flow would be complicated by the new traffic coming from the temporary bridge, and would easily grind to a halt. Residents of Queen Caroline Street face a nightmare of constant traffic jams blocking their road (not to mention the disruption that constructing the bridge will cause).
On the Barnes side, the "landing area" for the temporary bridge is very narrow, and the new roadway would pass extremely close to existing buildings. In fact, some plans call for buildings closest to Hammersmith Bridge to be demolished to make way for the bridge. How depressing - to actually demolish buildings, just so that people can drive their cars over a temporary bridge.
It doesn't solve the problem of Hammersmith Bridge itself, which still needs to be stabilised so that boats can pass underneath.
It won't relieve traffic in Mortlake, Putney, Wandsworth and elsewhere in the surrounding area. There has always been traffic here - and a new, narrow, easily blocked crossing isn't going to solve that.
So, in conclusion...
The calls for a temporary bridge for cars are a populist move that simply doesn't stand up to scrutiny. We have to hope that Dana Skelley et al stick to their guns and remain opposed to the idea.
The Taskforce are currently considering a ferry and a temporary bridge for pedestrians and people on bikes; meanwhile, the damage to the bridge is still being investigated, after which work will begin to stabilise it. Once the first stage of stabilisation has been completed, people will be able to walk and cycle over it, while boats will be able to pass underneath.
As I've said before, I don't think a ferry will be a satisfactory solution, and we have now heard that it will probably only run when the tide is high. So to sink time, money and effort into a ferry seems futile.
A temporary bridge for pedestrians and cyclists would probably be very popular; before the bridge was closed, 16,000 people were walking or biking over it, and no doubt they would return if they could. So, if any bridge is to be built, this would be the best solution. But of course, it doesn't solve the problem of Hammersmith Bridge itself, and it wouldn't allow boats to pass under the bridge again.
So the best solution would seem to be to stabilise Hammersmith Bridge itself, which would allow people to travel across and boats to pass underneath; it would also contribute to the overall repair work, unlike a temporary solution which would eventually be dismantled.
But of course, this won't stop Seamus Joyce, Wandsworth Councillor Ravi Govindia and others calling for a temporary bridge for cars. They know this will play well with many of their voters, who still believe that opening new routes for traffic will "relieve congestion" - something that has repeatedly been shown to be untrue.
Posted on 12th November 2020